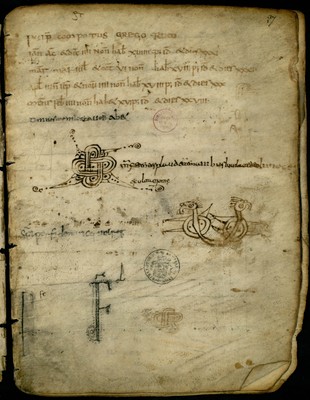 Tabula Paschalis (779-797), Transitus beatae Mariae; Passio S. Alexandri and excerpts of Isidore's Etymologiae – Reconstruction
Parchment · 28 leaves · 778 – 779 CE · Lyon ?
F-c4lg
Multiple, Dispersed Virtual Reconstructions, Lyon, BM, 788, f. 27-34 + Paris, BNF, Baluze 270, f. 167-174 + Paris, BNF, lat. 5288, f. 1-12
Image Rights:
How to quote:
Scholarly descriptions:
F-c4lg is a reconstruction of: Participating Libraries:
Multiple, Dispersed Virtual Reconstructions · Lyon, Bibliothèque municipale
Transcriptions:
This document is part of the following case studies:
Social Tags
Century:
Script Type:
Places:
Summary:
Lyon's City Library and Paris' National Library share parts of a manuscript whose opening piece is an Easter calendar for 779-797, which suggests the manuscript was written in 779 or immediately before.
The rapprochement of these parts was suggested by E.A. Lowe, CLA VI, 785. See also CLA V, 561, and Bischoff, KFH II, 2853a, on IXth century annotations.