Help
Search the scholarly manuscript descriptions can be searched either using Full Text or using specific access points (Author, Manuscript title, Text title, Place of origin, Incipit, Explicit, and Decoration). Search results include description text snippets that contain the search term and, depending on the search, either a link to the beginning of the appropriate manuscript or a direct link to the desired location in the text (Incipit or Text title, for example). Results for search by Decoration also include sample page images. The Search function currently supports the following commands and operators:
* (Wildcard) a search for Gall* will find St. Gallen and Gallus. Wildcards can be used at the beginning and at the end of a search term.
Quotation marks quotation marks can be used to find entire sentences or groups of search terms in a particular order (exact phrase queries). If multiple search terms are entered without quotation marks, an either-or search is conducted. This means that Freiburger Perikopen will produce many more results than "Freiburger Perikopen".
Augustiner-Chorherrenstift Kreuzlingen
GND: gnd_813499-6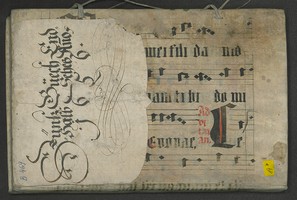 Antiphonale
Parchment · 1 single leaf, in-situ · 1501 – 1600 CE · 500 x 369
F-4rmf
Permalink:
https://fragmentarium.ms/overview/F-4rmf
https://fragmentarium.ms/metadata/iiif/F-4rmf/manifest.json
Stuttgart, Hauptstaatsarchiv Stuttgart, B 469 Bd. 19*
Augustiner-Chorherrenstift Kreuzlingen (Origin)
Found in: Place attached to description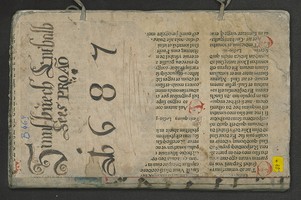 Sequentiar? Graduale?
Parchment · 1 horizontal strip, in-situ · 1301 – 1400 CE · 50 x 360
F-5878
Permalink:
https://fragmentarium.ms/overview/F-5878
https://fragmentarium.ms/metadata/iiif/F-5878/manifest.json
Stuttgart, Hauptstaatsarchiv Stuttgart, B 469 Bd. 29*
Diözese Konstanz (Origin)
Found in: Place attached to document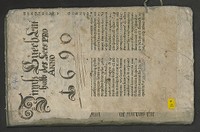 Graduale (?)
Parchment · 1 horizontal strip of a single leaf, in-situ · 1301 – 1400 CE · 65 x 373
F-wtnm
Permalink:
https://fragmentarium.ms/overview/F-wtnm
https://fragmentarium.ms/metadata/iiif/F-wtnm/manifest.json
Stuttgart, Hauptstaatsarchiv Stuttgart, B 469 Bd. 31*
Augustiner-Chorherrenstift Kreuzlingen (Origin)
Found in: Place attached to description

Missale
Parchment · 1 vertical strip of a double leaf; in-situ · 1301 – 1400 CE · at least 347 x 85
F-j0u3
Permalink:
https://fragmentarium.ms/overview/F-j0u3
https://fragmentarium.ms/metadata/iiif/F-j0u3/manifest.json
Stuttgart, Hauptstaatsarchiv Stuttgart, B 469 Bü 18
Augustiner-Chorherrenstift Kreuzlingen (Not Specified)
Found in: Place attached to description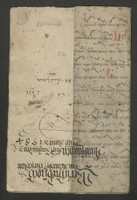 Antiphonale
Parchment · 1 single leaf (part); in-situ · 1301 – 1400 CE · 323 x 204
F-lhqf
Permalink:
https://fragmentarium.ms/overview/F-lhqf
https://fragmentarium.ms/metadata/iiif/F-lhqf/manifest.json
Stuttgart, Hauptstaatsarchiv Stuttgart, B 469 Bü 48
Augustiner-Chorherrenstift Kreuzlingen (Not Specified)
Found in: Place attached to description