Fragmenta Iguvina – Manuscript Fragments from Gubbio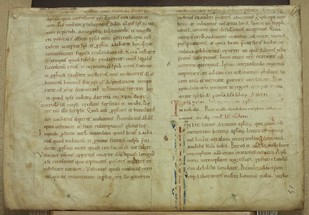 Partner Project
Partner Institutions: University of Bristol, in collaboration with Biblioteca Comunale Sperelliana
Project Leader: Dr Leonardo Costantini (University of Bristol)
Project Collaborators: Eliana Gasbarri; Laura Rogari (Biblioteca Comunale Sperelliana)
Project Description
This project's objectives are the identification, the digitisation, and online dissemination – via the Fragmentarium – of the rich collection of medieval manuscript fragments found in the archive of the Biblioteca Comunale Sperelliana, in Gubbio. This library is named after its founder Alessandro Sperelli, bishop of Gubbio (1590–1671), who donated his personal library to the local community in 1666. This comprised ca. 7000 early printed books, including incunabula and Aldine editions. The original collection was enriched in later decades through donations of additional early printed volumes, which are now all preserved in the archive of the Biblioteca Comunale Sperelliana.
Several hundred fragments at the Sperelliana are unidentified and are still in situ, having been used as book covers or to strengthen the bindings of their host volumes. The vast majority of these fragments are in Latin, dating from the tenth and eleventh centuries onwards, but there are also fragments in Hebrew and in vernacular.
No scholarly attention has been devoted to this collection. However, thanks to the support of the Biblioteca Comunale Sperelliana, a systematic study of the fragments is currently being undertaken. We aim to make digital reproductions (under natural light and UV light) and English descriptions of these fragments available to as wide an audience as possible with the Fragmentarium. Our hope is to continue the exploration of other collections of fragments in Gubbio and, potentially, in Umbria in order to disseminate online a catalogue of further fragments which are hitherto unknown.
Our Team
Leonardo Costantini, the project leader (Teaching Associate at Bristol University), is responsible for the digitisation and classification of the initial batch of fragments.
Eliana Gasbarri (MA in Books and Paper Handcraft Conservation and Restoration, Università degli Studi di Roma "Tor Vergata") and Laura Rogari (MA in Italian Studies [diss. topic: Palaeography], Università di Bologna; Scuola di Archivistica, Paleografia e Diplomatica, Bologna State Archive) are library assistants at the Biblioteca Comunale Sperelliana. They are responsible for the digitisation and classification of additional fragments, which will become available on the Fragmentarium in the near future.
Show Documents for this Project