Ticinensia disiecta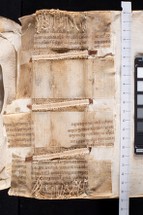 Partner Project
Full Title: Ticinensia disiecta: Medieval manuscript fragments in Latin script conserved in Capuchin libraries in the Canton of Ticino
Partner Institution: Centre of Competence for Ancient Books (CCLA), Biblioteca Salita dei Frati, Lugano (Switzerland)
Financed by: Fondazione Ferdinando e Laura Pica-Alfieri, Lugano (Switzerland) 
Project Leader: Marina Bernasconi 
Academic collaborators: Chiara Cauzzi, Renzo Iacobucci, Laura Luraschi
The aim of the project is to inventory, catalogue and study fragments of codices and of other medieval documents that are conserved in libraries and archives located in the Canton of Ticino (Switzerland). The ultimate goal is to promote a patrimony that until now has been almost totally unknown.
The research takes into account all kinds of reuse of fragments: covers and outer coverings adapted to books or to archival materials from every epoch, reinforcements of book backs and other kinds of binding fragments, without distinction to whether they are detached or still in situ.
The project is conceived by the CCLA, the Centre of Competence for Ancient Books (Biblioteca Salita dei Frati) in Lugano. In its first phase, it intends to focus on materials found inside libraries that have already been the subject of cataloguing projects led by the CCLA: the library of the monastery of Madonna del Sasso in Locarno, that of the monastery of Santa Maria in Bigorio, and the library Biblioteca Salita dei Frati in Lugano.
The first phase will focus on materials conserved in the library of Madonna del Sasso, amounting to some one hundred and fifty books containing in situ fragments.
Images of the fragments and the data providing a new scientific description are published online as part of the international database fragmentarium.ms.
Show Documents for this Project