Case study 6: Analyzing in situ Fragments in the Beinecke Library Incunables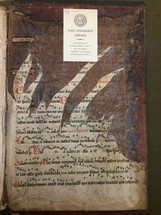 Case Study
Partner institution: Beinecke Rare Book and Manuscript Library, Yale University
Financed by:
Collaborator: Elizabeth Hebbard, Yale University
Advisor: Dr. Raymond Clemens, Curator, Early Books & Manuscripts, Beinecke Rare Book and Manuscript Library, Yale University
This case study aims to inventory, identify, and describe the in situ medieval manuscript fragments found in the bindings of Beinecke Library incunables. Detailed descriptions of the binding fragments, which have never before been inventoried, will be compiled into a digital catalogue. Additionally, the fragment descriptions will be imported into the MARC record environment, where they will be attached to the entries for their incunable host volumes, making this material fully searchable to the public for the first time. Beinecke Technical Services will photograph the in situ fragments, and the images will be made available to researchers via the Beinecke Digital Images database as well as the Fragmentarium web application, along with fragment descriptions. This project is part of a larger initiative at Yale to promote the study of medieval manuscript fragments across several collections at the university.
Elizabeth (Liz) Hebbard is a PhD candidate at Yale University. She is a paleographer and a specialist of medieval French and Occitan literature, currently completing her dissertation on troubadour lyric manuscripts. Her manuscript research interests include book history, fragmentology, paleography and codicology, and digital humanities (particularly digital image curation, data visualization, web design, OER, and TEI).
Show Documents for this Project