Case study 5: Psalms and Psalters in the Manuscript Fragments at the Abbey Library of St. Gall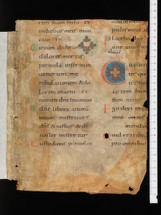 Case Study
Partner institution: Abbey Library of St. Gall
Financed by: SNSF Grant
Collaborator: Prof. María Adelaida Andrés Sanz, University of Salamanca, Spain
Advisor: Dr. Cornel Dora, Abbey Librarian of St. Gall
The project consists in a codicological, palaeographical, critical and philological study of manuscript fragments of Latin psalms and psalters preserved in the Abbey Library of St. Gall. This case study is related to Isidore of Seville's works and his hypothetical revision of the Latin Psalter.
This case study focuses on the location, description and examination of the fragments of the Latin Psalter preserved in the Abbey Library of St. Gall. Northern Italy and the Lake Constance region are important areas for the early transmission of Isidore's works as well as for their Precarolingian and Carolingian reception. This is also the area of origin of some of the fragments of psalms preserved in St. Gall. The Latin versions of fragments of psalms and psalters preserved in the library will be studied thoroughly and the obtained results compared to those provided by the current editions of the Latin Psalter edited to date. This type of study will raise methodological questions on the treatment of manuscript fragments, and it will further new perspectives on the study of Early Medieval versions and revisions of the Latin Psalter (including the hypothetical Isidorian one).
María Adelaida Andrés-Sanz is Associate Professor of Classics at the University of Salamanca (Spain). Her main research interest focuses on the study and editing of Late Antiquity and Early Medieval Latin grammatical and exegetical texts (5th to 10th c.), specially the writings of Isidore of Seville (or attributed to him). In recent years, this research topic has led her towards the study of the Latin Bible and its exegesis in Early Medieval Spain and Europe.
Show Documents for this Project