Case study 3: Describing book decorations in an online database – Illuminated fragments of manuscripts at the Austrian National Library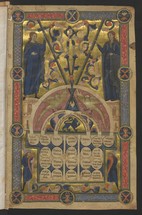 Case Study
Partner institution: Austrian National Library, Vienna
Financed by:
Collaborator: Mag. Friedrich Simader and Mag. Dr. Katharina Kaska M.A., Austrian National Library
Advisor: Dr. Andreas Fingernagel
This case study carried out at the Austrian National Library intends to create a model for describing book decorations in an online catalogue and database. To develop this model, we chose the fragments of decorated manuscripts, which amount to roughly 10% of the total collection of fragments of the Austrian National Library. On the basis of these fragments, we plan to:
Collect and unify all available data from published descriptions of illuminated fragments
Survey and describe illuminated fragments in the collection of fragments
Describe known illuminated fragments still in situ, mainly in incunabula.
Differences in definitions and vocabulary for describing book decorations in various European languages will make it necessary to use a combined model of basic classification with thesauri and verbal descriptions. As we are using fragments from the 9th to the 15th century from various countries with illuminations ranging from simple fleuronée initials to full page miniatures, comprehensive description guidelines will be necessary. The work will be carried out by permanent staff of the Austrian National Library without any additional funding.
Katharina Kaska and Friedrich Simader both work as curators at the Department of Manuscripts and Rare Books of the Austrian National Library in Vienna. Friedrich Simader has already been involved in several cataloguing projects on illuminated manuscripts. He is especially interested in the history of the libraries and collections of the university and court of Vienna. Katharina Kaska is currently writing her PhD thesis on "Texttransfer und Buchaustausch – Netzwerke monastischer Handschriftenproduktion am Beispiel des Zisterzienserstifts Baumgartenberg in Oberösterreich". Her fields of interest include palaeography, codicology and library history.
Show Documents for this Project